Our Mission
LKLP Head Start, a comprehensive child development program, seeks to enrich the lives of our families and strengthen self-sufficiency by giving roots and wings to our children:
Roots so they have a sense of self

Wings so they can follow their dreams
About Head Start
Serving:  Leslie, Knott, Letcher and Perry Counties
The LKLP Head Start program is a federally-funded program for low-income families from ages birth to 5. The Head Start program is operated by local non-profit organizations in almost every county in the country.
Children who attend Head Start participate in a variety of educational school readiness activities. They also receive medical and dental care, have healthy meals and snacks. They enjoy playing in a safe indoor and outdoor environment. 
Head Start helps all children succeed. Services are offered to meet the special needs of children with disabilities. Most children in Head Start are between the ages of three and five years old. Services are also available to infants and toddlers at selected sites.
The LKLP Head Start program is funded to serve 488 preschool age children and their families and 124 infant, toddlers and pregnant women.
 LKLP Head Start Program Annual Report 2021-2022
Annual Report available upon request. Please contact Justin Collett at (606) 400-6227.
 LKLP Head Start Program Ongoing Goals
To increase the awareness of drug abuse throughout the community as well as continuing to provide supports for families and children.

To bridge Head Start families to community groups through advocacy and empowerment.

To continue improving math and literacy skills in the classroom.

To continue secondary education and staff professional development with emphasis on credentials for teaching staff and family development assistants meeting requirements of Performance Standards.

To improve and strengthen appropriate and timely follow-up on referrals and communication.

To continue working with local dentists and the UK Center for Rural Health to improve awareness and care of teeth.

To increase community awareness of Head Start's positive influence using communication tactics; including present and future economic impact.

To improve quality, maintenance and safety of program vehicles.

To strive for effective communication between the central office and the center staff.

To strengthen and broaden services to grandparents rearing grandchildren.
LKLP Head Start/Early Head Start Goals 2019-2020
Program will work to provide and implement quality-learning activities for children through intentional planning in language.

Program will provide learning opportunities for children in an environment that fosters skill development necessary for math and cognitive growth.

Program will continue ongoing monitoring to validate and/or correct information and strengthen services to children and families through the fiscal and management systems that support program goals and objectives.
Head Start School Readiness Goals
School Readiness means that children are ready for school, families are ready to support their children's learning and schools are ready for children. 
Head Start Health & Development
Each child enrolled into Head Start will receive a medical, dental and eye examination. We will assist parents in arranging for and completing any needed follow-up to the examinations. Parents are urged to accompany their child on the initial visit to the doctor or dentist.
In addition, parents should be encouraged to prepare their children for health and developmental procedures, in order to increase their children's comfort levels, reduce their fears and anxieties and optimize children's performance and the validity of the procedures.

Children are taught good health and safety habits. Brushing teeth is part of the daily routine at each center along with proper hand washing. Self-esteem and social skills are supported throughout each day. Responsibilities as part of a group and the ability to express feelings are important parts of every activity. 

In case of medical emergency, parents will be informed promptly and their child will be taken to the nearest medical facility.

We must have each child's immunization certificate prior to enrollment and the beginning of class. Parents must bring a copy of the immunization certificate that we can keep and maintain the certificate is being up to date.
A sick child should be kept home for their sake and the sake of the other children. This goes for children of the Head Start staff also. If a child comes to the center and is ill we will contact the parents. We will keep the child away from the other children to avoid exposing the children to a contagious condition.
Health Services
The Health Services Area seeks to improve the Head Start child's present health conditions. Through health services, LKLP Head Start supports parents, in playing the role in maintaining the health and condition of their children, and works to ensure the children's well-being.
Nutrition Services
The Nutrition Area keeps the children healthy by providing one half to two thirds of their daily nutritional requirements. Preschool children are provided breakfast, lunch and a snack. In addition to breakfast and lunch, infants and toddlers are provided both a morning and afternoon snack. Nutrition education is part of LKLP Head Start's curriculum.
Mental Health Services
The area of Mental Health focuses on the prevention, identification, referral and treatment. Through a variety of activities designed to help children, families and staff learn to practice skills that help them develop and maintain healthy habits, active involvement in Head Start promotes positive outlook, wellness and flexibility.
Education and Early Childhood Development
Education and Early Childhood Development Services provide a wide variety of experiences that encourage the development of language skills, physical strength and coordination, problem solving, self-confidence, appreciation of family, self and others. These experiences are appropriate for the children's age and individual interests. Head Start does its very best to provide an atmosphere that encourages the children to be self-motivated to learn because it brings joy. Head Start uses creative curriculum in its daily planning to meet the needs of all children. Head Start works together with the family to set specific goals for the children that are both attainable and challenging for each child individually.  
Disability Services
Education and Early Childhood Development Services provide a wide variety of experiences that encourage the development of language skills, physical strength and coordination, problem solving, self-confidence, appreciation of family, self and others. These experiences are appropriate for the children's age and individual interests. Head Start does its very best to provide an atmosphere that encourages the children to be self-motivated to learn because it brings joy.
Head Start Parent Involvement
Parents are an important part of the Head Start Program. Parents may volunteer at the center and serve on the committees. LKLP Head Start offers parent education to all Head Start families. Special programs are available to each center group. We will also be glad to help parents enroll for their General Education Diploma (GED).
Involvement Services Provide:
1.

      
Workshops and Training Sessions for Parents.
3.

      
Opportunities to be involved in program activities (volunteering)
4.

      
Monthly Parent Committee Meetings
5.

      
Opportunities to make decisions about program operations (Policy Council). Contact the Head Start Director on any ideas you may have about improving program operations.
6.

      
Self-enhancement, Training, Field Trips, Special Activities.
7.

      
Opportunity
to apply for Kentucky Head Start Association.
8.

      
Opportunity
to apply for Kentucky Head Start Association Parent Scholarship.
9.

      
Opportunities to be part of a child's education.
Each center will choose a parent facilitator who, with a staff facilitator, will set up parent support activities. They will plan sessions, secure trainers, obtain materials and report the training. In this way, the role of parents in decision-making is supported according to each group's individual needs.
Parent committees provide parents the opportunity to participate in activities that address their interests and needs and that support the education and healthy development of their child.
The Parent Activity Fund is money set aside to provide parents with opportunities and experiences in planning, developing and implementing projects initiated by them. The Parent Activity Fund can be used to or as:
1.       Expenditures for projected related purposes.
2.       Join parents up for the Kentucky Head Start Association.
3.       Go to plays at Hazard and the Appalshop in Whitesburg for cultural enrichment.
4.       Purchase supplies for parent workshops such as videos and materials.
5.       Field trips to museums, zoos and other places for parents to experience with their children.
6.       Pay for CPR, First Aid Training for parents.
7.       Assist in a community project that will benefit their community.
To receive Head Start funds we must provide a 20% local match. So, it is vital that we have parents volunteer at the Head Start Centers. You will have fun and you will help Head Start to stay in the area. 
If you are interested in volunteering please contact your Head Start Center or the Central Office.
The above list are suggestions that must be voted on at the Parent Committee meeting. Parents are encouraged to submit their own ideas.
Head Start Family Engagement
Family Services
The Family Services Area works with families in goal setting through family partnership agreement process, provides families with resource information, how to access community services, and has the responsibility of locating, identifying and maintaining funded enrollment as long as they qualify. The Family Service Assistance and Associate Teacher for Infant/Toddler serve as a link between the home and the school.
Community Partnerships
Head Start serves children and families in their communities and recognizes that many other agencies and groups work toward the same goals with the same families. Through strong community partnerships, Head Start fosters collaboration, quality services and the development of a community that shares responsibilities for children and families.
Parent Involvement Services
In the Parent Involvement Area, Head Start recognizes parents as the prime educator of and nurturer of their child and LKLP Head Start makes every effort to include the parents in the decision making process. We count on parent volunteers to help us meet our local share of the grant that we receive.
PARENTS HELP MAKE HEAD START TERRIFIC!!!
Head Start Calendar
Head Start Eligibility
LKLP Head Start is funded to serve children ages three (3) through five (5). These children are located at 20 centers in four counties - Leslie, Knott, Letcher and Perry. In Early Head Start we are funded to serve 40 children ages 0-3 in Letcher and Knott Counties. The children are selected through eligibility requirements regardless of race, creed, color or handicap conditions.
To enroll a child in Head Start parent's must have the following:
Current Verification of Income

Child's Birth Certificate

Current Immunization Record (shot record)

Medicaid Number (if applicable)
Services provided by the management area are:

Supervise and monitor TOTAL program operations

Preparation of Head Start Grant Package & Budget

Ensure safe facilities, proper insurance, etc.

Provide public relations for the program

Recruitment and enrollment

Personnel, Human Resources

Problem Solving - please call at once if you have a problem - don't wait until it is a crisis.
Information Memorandums (IM's):
Program Instructions (PI's):
 Head Start Pre-Registration Application
If you would like to complete a Head Start Pre-Registration application and submit it electronically, click on the following link:
Head Start Contact Information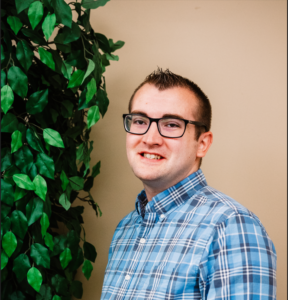 Justin Collett
Program Director
j.collett@lklp.net
Telephone: 606-435-7962
Fax: 606-435-7965
Office Location:
412 Roy Campbell Drive
Hazard, KY 41701
Office Hours:
Monday-Friday 8:00 AM - 4:30 PM